Veteran 6abc News Anchor Jim Gardner visited Temple Update Thursday morning, answering questions and giving advice to students.
Gardner, who has spent 39 years with Action News, talked about what the newsroom is doing in preparation of Pope Francis's visit, along with his recent trip to Argentina to get background on the Pontiff's origins. He said that with current broadband technology, he was able to go live from a world away—a reality that newsrooms only dreamt of some fifteen years ago.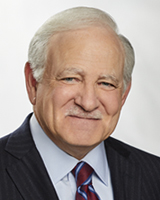 The six and 11-o'clock anchor urged students to embrace the changing media landscape.
"The audience is taking more of an interactive role," Gardner said. "And that's good—but it needs to be done responsibly."
Gardner also said that social media is vital for broadcast journalists to be a part of as well. Gardner said with a Twitter audience of nearly 45,700 followers, he is sure to keep his opinions to himself and to remain fair. But not objective.
"Objectivity is really a noble ambition, it really is—but it isn't realistic," Gardner said, citing a former professor of his. "It is, however, essential to be fair—that is the obligation."
With smartphones and tablets emerging as a main source of news for our digital generation, Gardner said local news is no longer 'appointment programming,' but instead must cater to an on-demand crowd that is not always in front of the TV at the strike of 6 o'clock.
"I cannot see a time in the foreseeable future that the news won't be on at 6 o'clock," Gardner said. "If anything, it's expanded to be on more frequently."